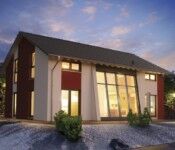 Since the beginning of 2016, the Deutsche Fertighaus Holding AG (DFH) and PROGEO cooperate in several projects, where "real" flat roofs will be installed. From now on, all new buildings of DFH will be provided with the Online Monitoring System of PROGEO for the permanent monitoring of flat roof waterproofing on leakages. Installation is easily realized together with the commissioned roofer und electrician. Afterwards, the system is connected with the online platform of PROGEO and reports data in realtime about the condition of the roof. Thus, it will be guaranteed, that no major consequential damage can arise out of a small one at the roof. A contribution to quality and sustainability.
The cooperation was made possible through the development of microelectronics with which small surfaces can be monitored affordably. Systems of PROGEO have been inserted for the monitoring of landfills right up to large flat roofs for over 20 years.
"We are happy that we found an experienced partner with PROGEO, with whom we can also implement our aspiration to sustainability and innovation into the building envelope", says Thomas Sapper, chairman of the DFH AG.